Now You Can Relax With North Andover Area Sedation Dentistry
Many people suffer from fear and anxiety during dental appointments - you're not alone.
Sedation dentistry with Dr. Charles McQuade may be the answer for people like you with overwhelming anxieties about the sights, sounds, and sensations of a dentist's office. Ask us about conscious sedation to help relieve the stress of some cosmetic dentistry procedures. We also provide dental implants, cosmetic dentistry and wisdom teeth.
At Andover Dental Care we can offer a number of options to help keep you comfortable and stress-free during your dental visits. Let's talk about which one is right for you. Whether you need a simple routine checkup or you need to address years of dental neglect, don't wait any longer to discover the benefits of sedation dentistry.
Protect your health and make an appointment today for North Andover area sedation dentistry. Just call our friendly staff at (978) 470-8855 or by fill out our simple online form to request an appointment or consultation. And please be sure to contact Andover Dental Care if you have any questions. We'll be happy to answer them!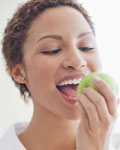 In-office whitening for quick results
Would you like a whiter smile right now? In the North Andover, MA area, Andover Dental Care offers in-office tooth whitening for quick results. Dr. Charles McQuade applies a bleaching solution to your teeth which is then accelerated by a high-intensity light. Teeth can often be whitening in one or two one-hour sessions - perfect if you're looking for a quick and easy way to brighten up your smile.
Trusted TMJ/TMD dentistry for pain relief
Did you know that trusted North Andover area TMJ/TMD dentist Charles McQuade, D.M.D. offers treatment for jaw pain relief? If you're experiencing discomfort when you move your jaw, or you hear clicking and popping when you chew, we want to help.
Our friendly team is happy to answer questions. There's no need to continue to live with pain. Relief is just a phone call away.
Gentle, professional gum grafting
North Andover area gum disease dentist Charles McQuade, D.M.D. has extensive experience with gum grafting. If you're suffering from exposed roots or receding gums, we can help.
Our caring, professional team can perform the periodontal surgery you need. You'll once again be able to enjoy having healthy teeth and gums.
If you're looking for quality sedation dentistry in Methuen you don't need to look any further. Charles McQuade, D.M.D., is the sedation dentist that Methuen residents trust to deliver experienced and professional dental care.